Any Kind of Move, Anywhere You Need to Go
Providing Worldwide Moving & Storage Services
Award-winning Mayflower Movers of Rochester, NY
Top-rated office moving company, Rochester, NY
Clark Moving & Storage provides a full range of moving and storage options at impressively competitive prices. Whether you're moving your home or office one block over or across the country, we have you covered from start to finish.
If you're moving to or leaving the Rochester, NY area and need storage, we'll happily hold your items safely and move you in when you're ready. We are a moving company equipped with the resources, experience, and cutting-edge equipment to take the edge off of your moving experience and to quite literally lighten your load.
Start your move with a free estimate!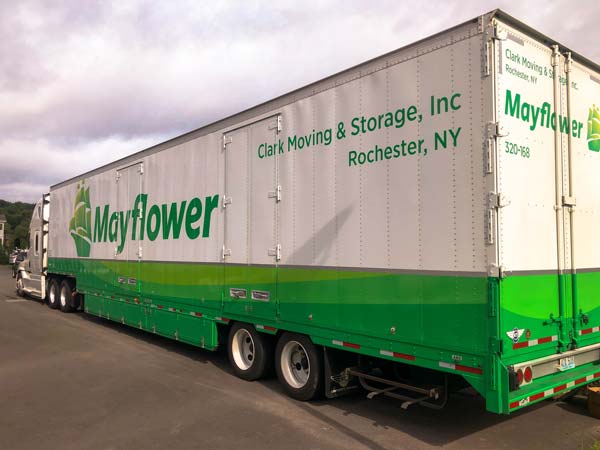 The staff at Clark Moving & Storage are truly dedicated to providing award-winning service and are held to a high standard of performance. Your trust in us is extremely important, and we are prepared to earn it. We are dedicated, knowledgeable, experienced, and honest.
Read More
When Clark Moving & Storage says we offer 'award-winning service,' we mean it. As a designated woman-owned business, owner Kathy Clark has been recognized as an outstanding business leader and is well known for her community involvement. Having been recognized as SBA's Small Business Person of the Year, as well as being presented with the Woman of Distinction Award for her dedication and commitment to the local community, it's safe to say Kathy and her employees are dedicated to incredible service.
If that wasn't enough to gain your trust, here are just a few more awards Kathy and Clark Moving & Storage, Inc are honored to have received while providing excellent moving and storage service to Rochester, NY: The President's Quality Award, Customer Choice Award, Heart of Quality Award, Circle of Excellence Award, Flagship & Fleet Safety Award, official A+ BBB rating, and are a member of Mayflower's Master's Club.
Our community involvement continues to grow as well! Clark Moving & Storage has teamed up with MOVE FOR HUNGER to support Foodlink. Move for Hunger is a non-profit organization that works with the relocation industry to support the efforts of local food banks.
Virtual Estimates Available!
35+ Years as a Mayflower Agency
2021 Customer Excellence award winners
Household Digital Inventory
A Proud Agent of Mayflower Transit
Founded in 1927, Mayflower Transit enables the country to receive its excellent services through local agents, including Clark Moving & Storage.
As an agent of Mayflower Transit, Clark Moving & Storage established a local presence in Rochester, NY, over 30 years ago. Today, we serve clients across Monroe County and the greater Rochester area. As Mayflower is one of the nation's oldest moving companies, Clark Moving & Storage, Inc was founded on an incredible cornerstone of service, one we take great pride in.
"After two excellent experiences with Clark Moving & Storage over the past 2 years, it's hard to imagine using anyone else. They handle fragile and valuable items with great care, and every one of the guys is courteous, professional, flexible, patient – and always willing to go the extra mile to be helpful."
– Charlie O
"Clark Moving & Storage is a good moving company! Their price is fair, their service is good, and I would definitely recommend it to anyone who would have a cross country moving business!"
– Rong K.
"I have nothing negative to say about our experience moving with Clark and Mayflower. The movers were very thorough, professional, personable, and fast. We had no issues during loading or unloading, really made our move across NY state stress-free."
– Kellen B.
"They were on time, respectful, worked hard, and worked well together. My job ended up much larger than initially anticipated. They communicated with me throughout the day to keep me updated on how things were going and what to expect. I believe my money was well spent going with Clark and would definitely use them again in the future if the need arose."
– Jen C.
"Mike and Jackie and the whole team were great! They helped us on short notice, they were very organized, and everything went as planned. Highly recommend!"
– Suzanne A.
Business Hours
Monday-Friday:
8:00 AM-5:00 PM
Saturday:
8:00 AM-12:00 PM
(by appointment only)